WE PAY THE GST EVENT ON UNTIL APRIL 30!
Vertical lifts are available in 2000, 3000, 4000, and 5000 pound capacity with widths of 114" and 120". Because of the increased lift height, vertical lifts are ideal for use in the following conditions. Changing water depths, high waves, and heavier boats. For more information, visit dockriteus.com.
Add the following to any lifts below...
Full-Length Bunks for v-hull boats: $599
Pontoon Bunks: $489
32 FOOT ROLLING DOCK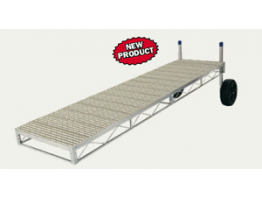 Sale Price: $3,999.00
Construction: ALUMINUM WITH VINYL DECKING
Exterior Colour: TAN
Length: 32 FEET
Width: 4 FEET
The Dock Rite truss style dock is easy to install. Roll-in, drop-in the decking, level with cordless drill and enjoy.
This style of dock works best when storage of long sections is not a problem.
As with all roll-in type docks the water level should be less than 8 feet with a firm bottom. For deeper water or soft lake bottoms please see the information on floating docks.
The standard 44" screw jack leg is made of 2½" heavy wall tubing and has enough adjustment for up to 6 feet of water. (Deep water leg kits are also available)
Leg pockets are oversized and welded to eliminate the need for multiple leg sizes and unsightly bracing.
1½" posts are available when screw jack legs are unnecessary.
Sand pads are interchangeable on any wheel assembly and provide a wide, solid base. Sand pads are ideal when portability is not an issue.
1x2 dual center stringers for extra strength and support.
The modular design is easy to expand or add slips.
The removable, 4'x4', aluminum panels are 1" thick with a maintenance free baked powder coat finish. The aluminum deck will stay cooler than wood or carpet. Each panel weighs approximately 28 lbs.
All of our products are backed with a 15 year structural warranty against defects in materials and workmanship. Please see warranty statement for complete details